Thursday 18th September 2014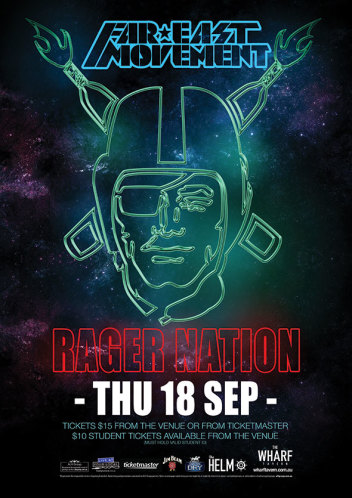 Far East Movement
Far East Movement (also known as FM) has bridged the gap between underground party records and mainstream hip-hop and pop. They blend elements of hip-hop, pop, electro and dance to create an original sound and lifestyle they call 'Free Wired'.
It is FM's stage energy and the 'Free Wired' lifestyle that started to change the way people reacted to their music. Not just the energy and lifestyle, but fashion and technology play a huge part. "We've played at every club in southern Cali and thrown parties, 'geekin out' at friends lofts and rooftops in downtown LA until the sun came up." "Our routine and fashion allow us to party all night, then head straight to an important business meeting in the morning, we always stay business fresh, plus we keep shades on to hide the lack of sleep," jokes Prohgress.
It was at those all-night parties that the group honed their sound and performance skills. "We felt like when we started messing more with hard electro synths, 4 to the floor drums and upbeat Daft Punk-type production it just seemed to connect better with the type of performance we do," Prohgress said. "And once we had 'Girls On The Dance Floor' that was just like the bazooka ammunition that we needed."
"Girls On The Dance Floor" became an undeniable, high-energy track that prompted women from all over to record videos of themselves dancing to the song and upload the clips online. The song exploded the latter part of 2009 in nightclubs and topped the playlists in L.A. The requests and heavy rotation earned Far East Movement a spot on a prestigious L.A. concert headlined by Jay-Z.
"The Far East Movement reps the diverse music fan that hits up 3 clubs playing all different music in 1 night, with a flossy and stylish fashion interest, low ridin' around LA in a fresh set of rims and a fresher pair of kicks, then hits the after-after party in the early a.m. and finally stumbles home to go on the computer and live all that online" the group says.
Far East Movement all grew up together in Los Angeles. They were influenced by the thriving downtown LA scene and a wide array of music from fellow West Coast classics like the Pharcyde and Dr Dre, to the dance music of DJ Tiesto and Daft Punk, to LA rockers like Guns N Roses, Linkin Park and Blink 182. "Our musical inspiration is as large as what we can hold on our iPods."
Buy Tickets At Ticketmaster
$15 pre-sold + BF
$10 student tickets available from the venue (must hold valid student id)
Tickets available at venue
Booking fee may apply
18+ Only - Photo ID required
Doors from 9.00pm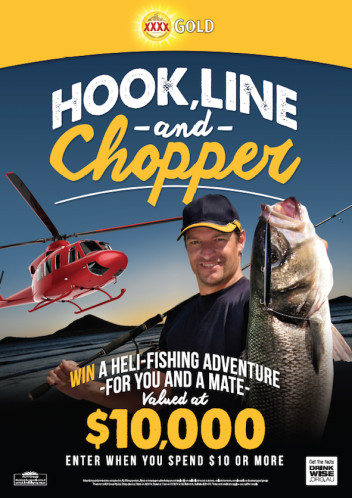 Hook, Line & Chopper
Win A XXXX Gold Heli-fishing adventure valued at $10,000
Flying by helicopter, you and a mate could be experiencing a once-in-a lifetime fishing expedition on the Aurukun Wetlands, Cape York.
You'll overnight aboard a charter vessel, have the services of an experienced guide and enjoy meals and refreshments throughout your stay.
Simply enter when you spend $10 or more across the bar.
The Promoter is ALH Group Pty Ltd, Level 1, 152 Oxford Street, Bulimba, 4171. The Promotion commences at 11am on 13/8/14 and ends at 10pm on 30/9/14. Drawn at 11am on 22/10/14 at the office of the Promoter. First valid entry drawn wins heli-fishing package valued at $10,000. Terms and conditions apply - see staff for details.
Mondays and Wednesdays at 6pm
National Pub Poker
$200 cash to be won!
Our poker games are very social and are a great place to get together with your mates for a game of cards. Whether you're a first timer, amateur or 'pro' player, our tournaments give you the opportunity to learn and develop your Hold'em skills.
Here you can try bluffing, raising, playing short stacked and multi-table tournaments! It is perfect for those who just want to have a good time, as well as those who want to learn how to play.
$200 cash and more in prizes to be won.
Conditions apply. See stafffor details.