Saturday 14th February 2015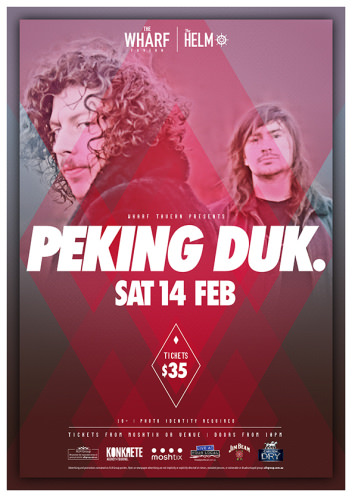 Peking Duk
Buy Tickets Online Now
Peking Duk are an Australian electronic music duo made up of disc jockey and music producers Adam Hyde and Reuben Styles. The pair first garnered attention in 2012 with the release of their Passion Pit bootleg remix.
Most notably, they just landed the No.2 (High) and No.5 (Take me over) songs in the Triple J Hottest 100 (over 2 million voters).
2013, Peking Duk placed 5th in the Australia wide InTheMix Top 50 competition, this was their second year in a row in the top 10 of the competition (6th in 2012). 2013 also saw Peking Duk receive strong support from national youth broadcaster Triple J. Along with having their tracks added to rotation, Triple J also gave Peking Duk the opportunity to be a Triple J Mix Up resident which saw them present and host a weekly DJ Mix on Saturday nights for a month.
Peking Duk will be pumping out a party like no other here at Wharf Tavern. You won't want to miss this! Tickets are selling fast!
$35
Booking fee may apply
18+ Only - Photo ID required
Friday 27th February 2015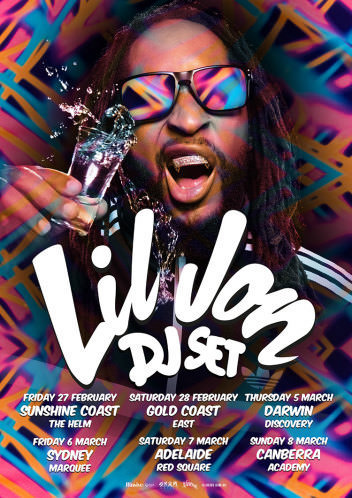 Lil Jon
TURN DOWN FOR ... Lil Jon! TURNING UP in the club Friday Feb 27!!
After rising to fame a decade ago as the face of the crunk movement, Lil Jon has been embraced by an entire new generation of fans as the EDM juggernaut rolled out. As a man who has consistently blurred the lines between rap and dance music, it shouldn't come as a surprise that he has been heralded as a legend amongst the relatively young EDM scene. His collaboration with DJ Snake, 'Turn Down for What', has grown to become an anthem in the global dance world and the phrase itself is now part of partying lexicon.
$30 pre sale
$35 door
Tickets available at venue
Booking fee may apply
18+ Only - Photo ID required
9pm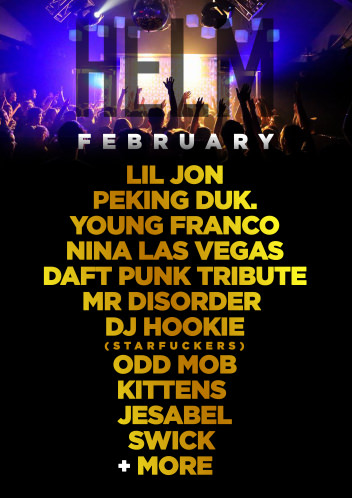 Coming Up At The Helm
Who's ready for February at THE HELM?
Check out our upcoming line-up for February.
Keep an eye on the website for more information.
18+ Only - Photo ID required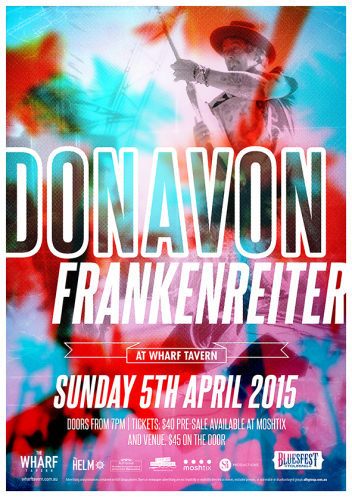 Donavon Frankenreiter
Live in the Lounge
Buy Tickets Online Now
Don't miss the incredible Donavon Frankenreiter this April at the Wharf Tavern!
Hawaii-based singer/guitarist/songwriter Donavon Frankenreiter will be undertaking a gigantic 17 date tour around his Bluesfest appearance. An accomplished musician, surfer, and renowned for his iconic moustache and quick-witted humour, Frankenreiter's tour will be focusing on the great surf towns of the country and regional Australia, anticipating a richer experience of people and place than the standard capital-city run that most international acts stick to.
We can't think of a better guiding light for a live music experience and fans of his infectious, acoustic tunes will have plenty of opportunities to see him. This is sure to be one of the feel-good highlights of 2015 live music on the Sunshine Coast.
$40 pre sale
$45 door
Tickets available at venue
Booking fee may apply
18+ Only - Photo ID required
8pm
Mondays and Wednesdays at 6pm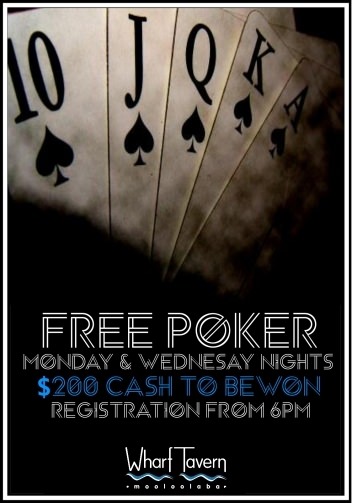 National Pub Poker
$200 cash to be won!
Our poker games are very social and are a great place to get together with your mates for a game of cards. Whether you're a first timer, amateur or 'pro' player, our tournaments give you the opportunity to learn and develop your Hold'em skills.
Here you can try bluffing, raising, playing short stacked and multi-table tournaments! It is perfect for those who just want to have a good time, as well as those who want to learn how to play.
$200 cash and more in prizes to be won.
Conditions apply. See stafffor details.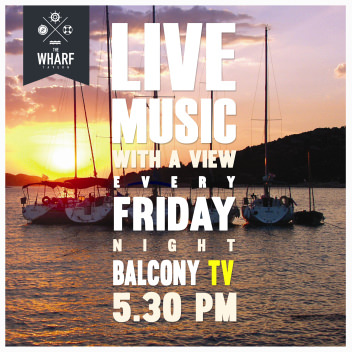 Live, Local and Original Music
Presented by Balcony TV and The Wharf Tavern
The Wharf Tavern Mooloolaba proudly supports local musicians with live music every Friday night from 5.30pm. With a solo artist kicking off the night from 5.30, this is the best spot for a relaxing after work drink.
For those wanting to kick on, we also feature a live band from 9pm. You can have dinner,drinks and get up for a dance, making the Wharf the perfect for a great night out for all.
On the first Friday of every month, BalconyTV is shot at the Wharf Tavern near the riverside deck. The community is welcome to come down and watch as three or four artists are shot that day. These artists then play a 45min set each for the live crowd. Music starts at 5.30pm. Make sure you head down and enjoy this great, free community event!
We'd love for you to enjoy it as well so come down on a Friday arvo & join in! Music with a View.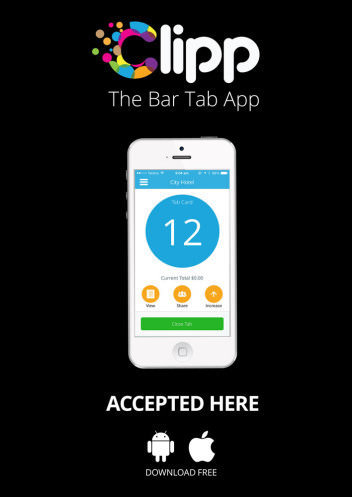 Clipp the Bar Tab App is Now Here
Clipp the Bar Tab App allows you to pay for food and drinks directly from your smartphone.
Simply download the app and connect a credit card to your account.
Set your tab limit and and flash your phone when placing your order.
View all your transactions in real time and when you're ready to leave, simply close the tab from your phone.
Come and give it a go!
See staff for details and conditions.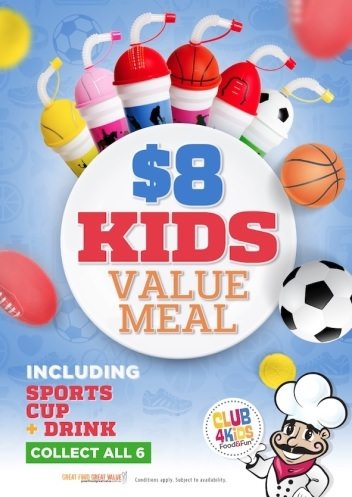 $8 Kids Value Meal including Sports Cup & Drink
For just $8 you will receive a kids meal and a sports cup filled with soft drink or juice!
So get the family together for lunch or dinner at participating locations and leave the cooking and washing up at home!
Conditions apply. Subject to availability. See staff for details.